Trump's Second Term?
News:
US News
1 in 3 GOP voters say he will be reinstated
You are not signed in as a Premium user; you are viewing the free version of this program. Premium users have access to full-length programs with limited commercials and receive a 10% discount in the store! Sign up for only one day for the low cost of $1.99. Click the button below.
NEW YORK (ChurchMilitant.com) - Nearly 1 in 3 Republicans believe Trump will return to the U.S. presidency this year.
According to a Morning Consult and Politico poll conducted from June 4–7, nearly one-third of Republicans think it's very or somewhat likely that Donald Trump will return to the Oval Office — with 17% saying it's very likely and 12% saying it's somewhat likely.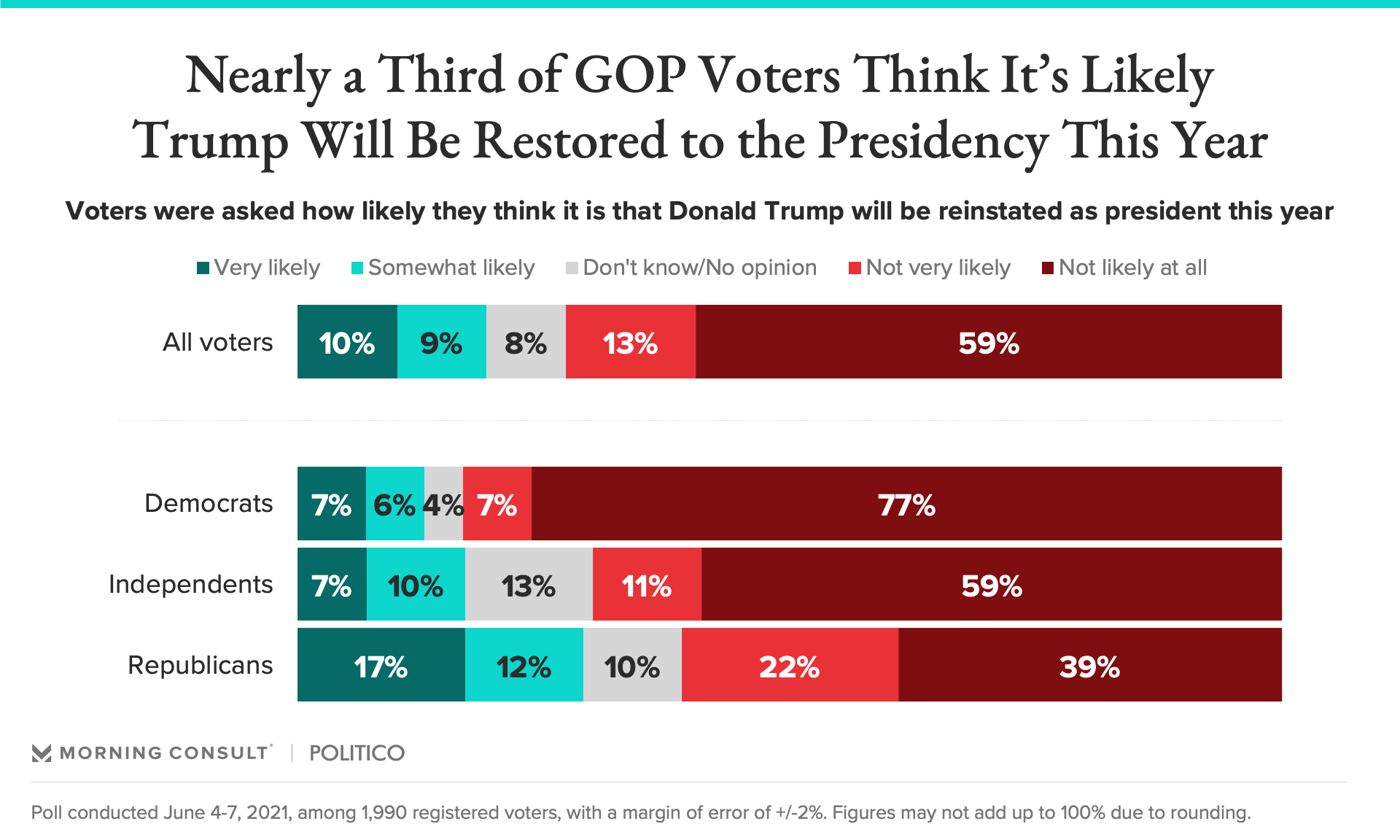 Corey Lewandowski, one of Trump's top advisors, tried to quell this sentiment, admitting over the weekend he doesn't think a Trump reinstatement is possible.
"I know of no provision under the Constitution that allows it to occur, nor do I know of any provision under the Constitution that allows an individual who lost an election to come back in if a recount is dubbed inaccurate," Lewandowski explained.
This matches the nearly 3 in 4 voters who still reject the notion Trump will be reinstated — including 61% of Republicans, 84% of Democrats and 70% of independents.
Election Damaged Voter Confidence
Meanwhile, a separate Morning Consult poll conducted from May 28–30 shows the sham election of 2020 did extreme damage to Republican voter confidence.
Of the Republicans surveyed, only 42% said they had at least "some" confidence in the U.S. electoral system. This shows Republican trust in the democratic process is yet to recover from its drop in November.
Proving Fraud in Key States
Whether Trump can be reinstated or not, showing the election was fraudulent can only help the president win back his office in 2024. For Republicans, the task of proving election discrepancies relies on successful vote audits in swing states like Arizona, Pennsylvania and Georgia.
Currently, Maricopa County in Arizona is the only county in the process of hand-recounting and verifying the more than 2.1 million ballots cast in November. If the audit proves Trump won Maricopa County, then it would almost certainly mean Trump, in fact, should have won Arizona's 11 electoral votes.
Pennsylvania lawmakers toured the Arizona audit site

There are rumblings of an audit in Pennsylvania, meanwhile, after news broke last week of three state lawmakers visiting the Maricopa audit facility for a tour. If a Pennsylvania audit overturned the state's results, it would mean Trump earned another 20 electoral votes.
A forensic audit for Georgia may be in the mix as well, as two Republican state senators from the Peach State also visited the Maricopa audit facility. If Trump were to swipe the electoral votes from Georgia, it means he should have won another 16 electoral votes.
Overturning Pennsylvania, Georgia and Arizona would also mean Trump actually beat Biden in the 2020 election, as the combined 47 electoral votes added to Trump's current 232 would give him 279 electoral votes — nine more than he would've needed to remain president.
Overturning Pennsylvania, Georgia and Arizona would also mean Trump actually beat Biden in the 2020 election.
Speculations aside, a Trump reinstatement during unelected Biden's first term appears far-fetched. But this doesn't mean a Trump re-election is implausible — especially with election integrity laws becoming a top issue for Republican lawmakers running in 2022.
And given Trump's pro-life advocacy throughout his presidency, faithful Catholics who supported him are hoping for election transparency so they can see who actually won in 2020 — giving those who feel defrauded the chance to "Make America Great Again" in 2024.
--- Campaign 31877 ---
Have a news tip? Submit news to our tip line.
We rely on
you
to support our news reporting. Please
donate
today.